LWV New Mexico Biennial Convention
On May 16-17, 2015 (Sat-Sun), the state League will hold its biennial Convention at the Crowne Plaza Hotel in Albuquerque, attended by representatives from New Mexico's four Leagues and the Members-at-Large throughout the state.
The biennial convention of the League of Women Voters of New Mexico considers and adopts a program for action; elects officers and directors for two-year terms; and transacts other business as may be presented.
Schedule:
Friday, May 15
5:30 - 7:30 pm
Reception at the home of Carol Tucker Trelease
Saturday, May 16
Noon -1:30 pm
Lunch with Speaker: Chief Justice Barbara Vigil, "Understanding the Judiciary–The Third, Co-Equal, and Least Understood Branch of Government" Tickets are available until 4/30 at $25 for guests and public.
1:45 - 5:30 pm
First Plenary Session
6:00 pm
Cash Bar Reception Crowne Plaza Promenade
7:00 pm
Banquet with Speaker: Martha Burk, Author of Your Voice, Your Vote
Tickets are available until 4/30 at $35 for guests and public.
Sunday, May 17
8:30 a.m. – 1 pm
Second Plenary Session.
LWVNM Board meeting follows. Open to all members.
Consider attending! If you are not chosen as a representative for your League (be sure to ask! volunteers are always needed), you can still attend as an observer - or just attend the Saturday luncheon or evening banquet.
You can contact the League of Women Voters of Central New Mexico to ask about the Convention or for directions to the reception by calling the office at 505-884-8441 or by e-mail at info@lwvcnm.org.
Documents:
April 30 is the deadline to reserve lunch buffet and/or banquet tickets (indicate meal choice on registration form). Please mail form with check to LWVCNM, 2315 San Pedro NE, Ste. F-6, Albuquerque, NM 87110.
Lodging: Rooms are $79 per night if reserved no later than May 1. Sharing is possible and economical! Crowne Plaza Hotel, 1-877-227-6963, 1901 University, N.E. www.Crowneplaza.com/Albuquerque, Reservation Code: LWV.
More details and the registration form are in the Spring La Palabra, which members will receive by 4/16. Attendees: please bring the issue to Convention.
Silent Auction Donations Needed. The silent auction is an important fundraiser for the State League's Education Fund. Donations from League members will make it a success. Thank you in advance for participating.
Op-Ed: The Judiciary Deserves More Respect
How can we ensure that our state court system has the funds needed to serve the public? An op-ed by Meredith Machen, LWVNM President: The Judiciary Deserves More Respect.
Action Page updated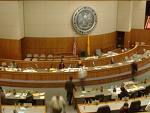 The Legislative Action page has been updated League Position papers on the 2015 agenda and the latest tracking sheet of bills that League lobbyists will be following. This list is downloadable, and contains links to each of the bills on the Legislative website.
Other useful information on the Action page includes notes from the Dec 13 Lobbying Workshop presented by the Santa Fe League of Women Voters, links to help you contact your elected representatives, and MORE! You can even watch the video of the Lobbying Workshop.
League Day at the Legislature
Feb 10, Tuesday, was League Day at the Legislature. From 10:30am to noon in Santa Fe, members and guests enjoyed meeting with other League members, talking to their elected representatives, and listening to presentations by
View Dr. Gabriel Sanchez's Presentation
Dr. Sanchez summarized his findings about the effects photo ID laws would have in voting in Texas, and extrapolated the effects that would be likely to occur in New Mexico, a state with many similarities to Texas, as well as other information about systematic efforts at voter disenfranchisement. You can view his presentation and data
Dr. Gabriel Sanchez is an Associate Professor of Political Science at the University of New Mexico and Director of Research for Latino Decisions.
---
If you missed the League's Legislative Reception on Feb. 9, you missed a very important panel discussion on Education Funding and Other Issues, chaired by League President Meredith Machen. To understand some of the factors affecting the low academic achievement of most New Mexico students, please see the data report that Dr. Veronica Garcia distributed as part of her talk at this link.
The League is advocating for more funding in order to address the learning needs of at-risk and low-income students. New monies should be allocated "above the line" according to the State Equalization Guarantee (SEG). "Below the line" discretionary funding for merit pay and special reform initiatives runs counter to the intent of the SEG formula. Supplemental funding is also needed for curriculum and teacher training in order to implement the Common Core and assist students who are not proficient in reading and math.
Sign the New Mexico Pledge
Common Cause New Mexico and the Foundation for Open Government have launched a campaign to illustrate the broad public support for policies that will address the harmful impact of money in politics and increase transparency. These are both major priorities of the League of Women Voters and we urge you to sign the pledge at:
Take the Pledge!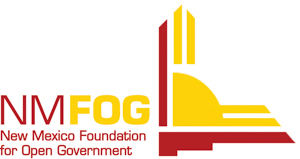 Call Congress!
The Congressional switchboard number is 1-866-727-4894. All you need to do is call toll free and ask for your Congressman or Senator.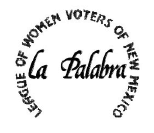 Latest La Palabra
The Winter 2015 issue of the League's quarterly newsletter, La Palabra, has been posted on the website. It's a big one: 20 pages, including discussions of League lobbying plans for the 2015 Sixty Day legislative session, status of education in New Mexico (very timely, because ed funding is a major function of the legislature), reports from the President and Local Leagues, preparations for League Day at the Legislature and 2015 state convention, recommendations from the Mental Health Services study (also very timely, in view of the legislative session), an update on PNM's proposed purchase of a coal mine, and more. Keep up to date by reading La Palabra!
For issues of La Palabra dating back to 2005, see the Newsletters page.
About the League of Women Voters
The League of Women Voters, a nonpartisan political organization, encourages the informed and active participation of citizens in government, works to increase understanding of major public policy issues, and influences public policy through education and advocacy.
The League of Women Voters is strictly nonpartisan; it neither supports nor opposes candidates for office at any level of government. At the same time, the League is wholeheartedly political - working to influence policy through education and advocacy. It is the original grassroots citizen network, directed by the consensus of its members across the country.
Membership is open to all citizens of the United States, both women and men, who are 18 years or older. In New Mexico, there are four local leagues. All local members are automatically members of LWVNM as well as the national League of Women Voters of the United States (LWVUS). New Mexicans who do not live near any of the existing local leagues may join LWVNM as a member at large.
Find out more about us and check our calendar for upcoming events.