Are you registered to vote?
In order to register to vote in New Mexico, you must be a U.S. citizen with a social security number and be at least 18 years of age on or before the next election.* Registration is open until 28 days before an election. You can register to vote online or update your registration through the NM Secretary of State's website if you have a NM driver's license or a NM state-ID issued by the NM Motor Vehicles Division. To register online and for more information, visit the NM Voter Information page.
To confirm your registration, find out your precinct, district, and other voting information, visit Voter View. You can also register through a voter registrar or by going to your County Clerk's office or other voter registration site, such as a library or college.
(*) Two exceptions:
An individual who has been legally declared mentally incapacitated may not register.
An individual who has been convicted of a felony offense loses the right to vote while completing the terms and conditions imposed by the court. After completing the felony sentence, the individual must re-register to vote.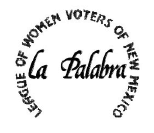 Latest La Palabra
The Winter 2016 issue (PDF, 770 KB) is out. Includes articles on League Day/Legislative Reception, February 3 and 4. See p. 9 and please make your hotel reservations by January 13 to secure special League rate. Other features are news from each of the local Leagues, update on the charter school regulation study, and Constitutional Amendment consensus meetings. Keep up to date by reading La Palabra!
For issues of La Palabra dating back to 2005, see the Newsletters page.
How to Contact Your Legislator
Want to connect with your legislator? We have Contact Info for all NM legislators.
Want to reach NM's Congressional delegation? The Congressional toll-free number is 1-866-727-4894 . Just ask for your representative or senator. Please remember that you are speaking as an individual and not for the League.
---
About the League of Women Voters
The League of Women Voters, a nonpartisan political organization, encourages the informed and active participation of citizens in government, works to increase understanding of major public policy issues, and influences public policy through education and advocacy.
The League of Women Voters is strictly nonpartisan; it neither supports nor opposes candidates for office at any level of government. At the same time, the League is wholeheartedly political - working to influence policy through education and advocacy. It is the original grassroots citizen network, directed by the consensus of its members across the country.
Membership is open to all residents of the United States, both women and men, who are 18 years or older. In New Mexico, there are four local leagues. All local members are automatically members of LWVNM as well as the national League of Women Voters of the United States (LWVUS). New Mexicans who do not live near any of the existing local leagues may join LWVNM as a member at large.
Find out more about us and check our calendar for upcoming events.