The Governor Needs To Deliver on Her Promises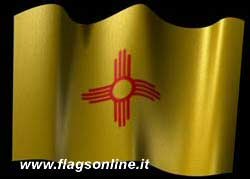 This appeared as a Letter to the Editor in the April 6, 2014 Santa Fe New Mexican: link
Transparency and sunshine in government are principles of American democracy. There is a breach of faith when the flow of information is deliberately strangled. Such is the case with the governor's new edict that all requests for information by the Legislative Finance Committee and the Legislative Education Study Committee must be submitted to a political appointee in the Governor's Office.
The League of Women Voters is deeply concerned when the Legislature is prevented from executing its official responsibilities as the representatives of the people of New Mexico. Such a requirement has a chilling effect on the Legislature's work. It is a serious impediment to efficient functioning of the Legislature to have a person with another portfolio be the sole conduit for information requests to every state agency. We urge Gov. Susana Martinez to reverse course and deliver on her promises to make transparency and governmental efficiency the hallmarks of her administration.
Meredith Machen
President, League of Women Voters of New Mexico
Know Your Elected Officials - 2013 Voters Key is out!
The League has updated its Voters' Keys and Who's Whos based on outcomes of the election. Detailed information about who will represent you in 2013 and how to contact them is now available!
Call Congress!
The Congressional switchboard number is 1-866-727-4894. All you need to do is call toll free and ask for your Congressman or Senator.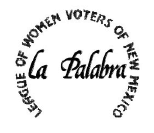 Latest La Palabra
The Winter 2014 issue of the League's quarterly newsletter, La Palabra, has been posted on the website. It contains articles on Implementing the Affordable Care Act, Educational Reform, Common Core standards, updates on important League program activities (natural resources, mental healthcare in New Mexico, marriage equality, and reproductive rights), reports from the five League presidents, and more. For issues of La Palabra dating back to 2005, see the Newsletters page.
About the League of Women Voters
The League of Women Voters, a nonpartisan political organization, encourages the informed and active participation of citizens in government, works to increase understanding of major public policy issues, and influences public policy through education and advocacy.
The League of Women Voters is strictly nonpartisan; it neither supports nor opposes candidates for office at any level of government. At the same time, the League is wholeheartedly political - working to influence policy through education and advocacy. It is the original grassroots citizen network, directed by the consensus of its members across the country.
Membership is open to all citizens of the United States, both women and men, who are 18 years or older. In New Mexico, there are four local leagues. All local members are automatically members of LWVNM as well as the national League of Women Voters of the United States (LWVUS). New Mexicans who do not live near any of the existing local leagues may join LWVNM as a member at large.
Find out more about us and check our calendar for upcoming events.