Convention 2013
(Updated 05.12.2013: additional documents for download!)
The League's 2013 State Convention will be held in Las Cruces, May 18-19. A full schedule has been planned, to include proposed changes to the League's positions, bylaws, and program, and presentation of the draft 2013-2015 budget. Former Governor Garrey Carruthers will speak at the Saturday banquet, while Sen. Martin Heinrich's Las Cruces representative, Jake Rollow, will address Immigration Reform at the opening Saturday luncheon.
All the details can be found in the Spring 2013 La Palabra. For more information, see also the Convention page. Each local League will send its delegates, but others may attend as observers. There is a registration form in the Spring La Palabra on page 15.
Know Your Elected Officials - 2013 Voters Key is out!
The League has updated its Voters' Keys and Who's Whos based on outcomes of the election. Detailed information about who will represent you in 2013 and how to contact them is now available!
League Action
(Updated 4.20.2013)
Final Tracking List (4.20.2013) Bills that the League was tracking
Call Congress!
The Congressional switchboard number is 1-866-727-4894. All you need to do is call toll free and ask for your Congressman or Senator.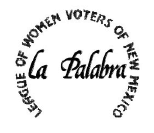 Latest La Palabra
The Spring 2013 issue of the League's quarterly newsletter, La Palabra, has been posted on the website. This is the Convention 2013 issue. For issues of La Palabra dating back to 2005, see the Newsletters page.
About the League of Women Voters
The League of Women Voters, a nonpartisan political organization, encourages the informed and active participation of citizens in government, works to increase understanding of major public policy issues, and influences public policy through education and advocacy.
The League of Women Voters is strictly nonpartisan; it neither supports nor opposes candidates for office at any level of government. At the same time, the League is wholeheartedly political - working to influence policy through education and advocacy. It is the original grassroots citizen network, directed by the consensus of its members across the country.
Membership is open to all citizens of the United States, both women and men, who are 18 years or older. In New Mexico, there are four local leagues. All local members are automatically members of LWVNM as well as the national League of Women Voters of the United States (LWVUS). New Mexicans who do not live near any of the existing local leagues may join LWVNM as a member at large.
Find out more about us and check our calendar for upcoming events.