Sign the New Mexico Pledge
Common Cause New Mexico and the Foundation for Open Government have launched a campaign to illustrate the broad public support for policies that will address the harmful impact of money in politics and increase transparency. These are both major priorities of the League of Women Voters and we urge you to sign the pledge at:
Take the Pledge!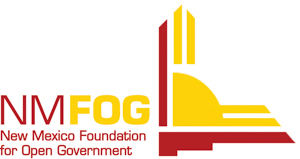 LWV New Mexico Voters' Guide Is Now Online
Voters' Guide for 2014 General Election
For nearly 100 hundred years, League volunteers have made democracy work in many ways. Our goal is to increase citizen participation in informed decision-making about their governments. Our educational activities include moderating discussions on issues of importance to the public as well as candidate forums. We conduct voter registration drives and get-out-the-vote campaigns. We write up fact sheets on topics that we have studied and have positions on. We educate citizens by publishing candidates' answers to our non-partisan questions in our Voter Guides.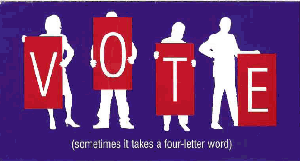 The Voter Guides for the General Election will be available right here by October 5. We want you to choose the best leaders, those who will work collaboratively and serve selflessly for our state and our communities. We believe that informed, engaged voters are the key to making progress, so we ask YOU to help get out the vote, too. There is too much at stake to let only a few people decide for you.
Thank you.
Meredith Machen
President, League of Women Voters of New Mexico
Candidate Debates and Forums
The New Mexico Leagues of Women Voters have arranged for a series of candidate forums for various statewide positions (Attorney General, Treasurer, Auditor, Secretary of State, etc). At this time, participants are still being lined up, and may not be the same in each forum. These forums will take place in Santa Fe, Las Cruces, and Albuquerque; many will be televised or on radio. All forums will occur before the start of Early Voting.
For additional information, check this website and the websites of the local Leagues hosting each debate.
For additional election information (including voting dates), please see the Voter Information page.
Call Congress!
The Congressional switchboard number is 1-866-727-4894. All you need to do is call toll free and ask for your Congressman or Senator.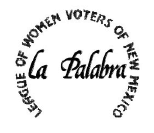 Latest La Palabra
The Spring 2014 issue of the League's quarterly newsletter, La Palabra, has been posted on the website. It contains articles on Implementing the Affordable Care Act, Educational Reform, Common Core standards, updates on important League program activities (natural resources, mental healthcare in New Mexico, marriage equality, and reproductive rights), reports from the five League presidents, and more. For issues of La Palabra dating back to 2005, see the Newsletters page.
About the League of Women Voters
The League of Women Voters, a nonpartisan political organization, encourages the informed and active participation of citizens in government, works to increase understanding of major public policy issues, and influences public policy through education and advocacy.
The League of Women Voters is strictly nonpartisan; it neither supports nor opposes candidates for office at any level of government. At the same time, the League is wholeheartedly political - working to influence policy through education and advocacy. It is the original grassroots citizen network, directed by the consensus of its members across the country.
Membership is open to all citizens of the United States, both women and men, who are 18 years or older. In New Mexico, there are four local leagues. All local members are automatically members of LWVNM as well as the national League of Women Voters of the United States (LWVUS). New Mexicans who do not live near any of the existing local leagues may join LWVNM as a member at large.
Find out more about us and check our calendar for upcoming events.