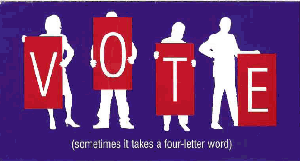 Voting 101
The League has prepared a brief guide to voting in New Mexico. You can view or download it here (PDF, 256KB).
Voters' Guide 2014
The Online Voters' Guide is up! Stay tuned for additional information, such as judicial races, etc.
This fall, there will be an election for US Congress, one US Senator, the Governor, Lt. Governor, Treasurer, Secretary of State, Auditor, all members of the New Mexico House, and many other judicial elections, county and district elections. There will probably also be ballot issues.
Stay informed by checking the League websites! The LWV New Mexico site will be posting an online-only Voters' Guide in time for fall early voting and consisting only of the state-wide offices. See your local League's website for voting and candidate information in your locality. In areas served by a local League of Women Voters, there will also be printed Voters' Guides at libraries, many businesses, and senior centers.
Important Dates for the General Election
Date
Description
The General Election includes candidates at the federal, state, county and local levels. Anyone who is registered may vote, and you may vote for any candidates you choose, regardless of which party (if any) you are registered under.

Fall General Election


All registered voters of any, all, or no political party can participate in the General Election. The League of Women Voters will be publishing Voters' Guides before the start of early voting.
October 5
LWV New Mexico Voters' Guide published online (only)
October 7
Last Day to Register or Re-register to Vote. After this, voter registration will close until after the election
October 7
Absentee and absentee-in-person voting opens. Absentee ballots are available by mail by request - absentee ballots are no longer sent out automatically! Early in-person voting by absentee ballot opens.
October 31
Absentee voting ends
November 1
Early voting ends
November 4
ELECTION DAY

Candidate Debates and Forums


The League of Women Voters is holding a series of candidate forums ("debates") for the candidates for Treasurer, Auditor, Secretary of State and Attorney General. These forums will occur throughout the state, prior to the start of Early Voting. You are encouraged to attend, or when possible, tune in to, at least one of these events!
September 9, 6:00-8:00pm
Las Cruces City Hall
Will be broadcast on a local channel
September 16, 6:30-8:30pm
Santa Fe Community College, Jemez Room
Broadcast on KSFR, 101.1 FM
September 23, 6:30-8:30pm
Albuquerque, African American Performing Arts Center at 310 San Pedro NE
Voter Registration
You must be registered in order to vote. If you have moved, changed your address, your name, or your party affiliation, you will need to re-register in order to vote.
You can check your registration status by contacting your local County Clerk's office and numerous other locations listed on www.sos.state.nm.us.
Who may vote in New Mexico? Voters must be U.S. citizens, must be at least eighteen on or before election day, and must reside in New Mexico. Application may be made in person or by mail, but note the identification requirements for applications made by mail.
Where do I register? You can register at your County Clerk's office, or pick up a voter registration form at any public library, Department of Motor Vehicles office, or public assistance office. Voter registration drives are conducted by organizations such as the League of Women Voters, the political parties, various advocacy groups, and by individuals who are trained voter registrars.
How Can I Tell if I'm Registered? You can call your County Clerk's office, or check online at the Secretary of State's Voter View web page.
Voter Identification For mail-in registration application, if the applicant is registering for the first time in New Mexico, the applicant must submit, together with his completed and signed application form, a copy of one of the following types of identification showing both the name and the NM address of the applicant:
a current and valid photo ID such as a driver's license (note that the DMV can issue similar IDs to non-drivers)
a utility bill
a bank statement
a government check, paycheck or other government document.
If the applicant has not submitted the required identification before the election, s/he may be required to do so when voting for the first time, whether in person or absentee.
Where can I get more information? Visit the website of the New Mexico Secretary of State. You can look up your voter registration information with the races you can vote for VoterView. (Do not enter your middle name as system will not find you if you used your middle initial when you registered.)
Verify your voter registration status.
Problems voting? Call one of these hotlines:
1-866-MYVOTE1
1-866-OUR-VOTE
1-888-VE-Y-VOTA (en Español)
or visit www.866OurVote.org.
Visit the NM Secretary of State's website for more information, or send your questions to Elections@state.nm.us.

(To read the PDF files, you can download a free copy of Adobe Acrobat Reader:)