Broadband Resources (LWV Rural Caucus)
The national LWV Rural Caucus is advocating for better broadband nationwide, especially in rural areas.
(Although this page is hosted on the LWVNM website, the Rural Caucus has members from across the nation, not just New Mexico. The Rural Caucus is currently an informal group, not officially recognized by the LWVUS.)
This is a collection of information broadband advocates might find useful.
LWV Positions on Broadband
The LWVUS does not currently have a position on broadband.
Three state Leagues that we know of have broadband positions: Connecticut, New Mexico, and Tennessee. New Mexico and Tennessee's positions are concurrences with Connecticut's.
We're looking for other state and local Leagues that have positions on broadband, or might want to concur with Connecticut's position.
General Articles
The Looming Battle Over How to Set 'Low Cost' Broadband Prices: how do you define affordable, and what should be required of programs benefitting from federal infrastructure grants?
Brookings Research: 5 steps to get the internet to all Americans, by Tom Wheeler, a former head of the FCC.
Community Scope: Bringing Broadband to Rural America.
The Hill reports on the staggering amounts the major internet providers are spending to block support for municipal broadband networks in the infrastructure bill.
Maps and Studies: How Bad is it Now?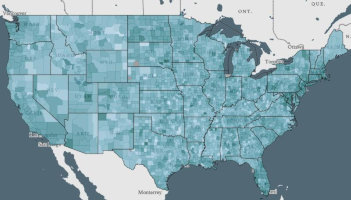 The unfortunate answer is: there's no way to know.
Problems with existing studies:
They only sample a small fraction of users.
They don't distinguish between home users and companies or institutions. So, for example, a rural area with a university or national lab will look like it has excellent bandwidth even if home users have no internet access at all.
They're only guessing about where each user lives: so-called "geolocation" can put you in the wrong county, the wrong state, or occasionally even the wrong country.
The FCC map is the worst. The FCC considers a census block served by a broadband provider if even one house or business in the block is served (Broadband Data and Mapping: Background and Issues for the 117th Congress, p. 13). But the FCC broadband map makes is even worse than that, coloring whole counties rather than Census blocks. More background: CNET: Millions of Americans can't get broadband because of a faulty FCC map. There's a fix.
Be aware of those issues when evaluating maps.
Community Broadband
In community broadband, some part of the broadband service -- at least the infrastructure, but sometimes the entire broadband consumer service -- is managed as a utility by a town, county, or wider ranging co-op. Residents aren't at the mercy of a for-profit monopoly that has no incentive to increase speeds, cut costs or improve infrastructure.
The Daily Yonder argues that Co-Ops, Wireless, and Partnerships Are Likeliest Ways to Connect Rural America. The National Rural Electric Cooperatives Association asks Congress: Be Bold in Funding Broadband That Meets Future Demand.
Success Stories
States having great success with community- or state-owned fiber even to rural areas:
At the city level, Chattanooga is a major success story on how to build community broadband that cuts costs for residents while at the same time boosting speeds. Some stories:
Cautionary Tales
In some states, the telecommunication lobby has pushed through laws actually prohibiting community broadband. See:
Be on guard to make sure your state doesn't pass similar legislation!
Some locations that can't get their government to implement community broadband have done something similar on a volunteer basis, like New York: "Welcome to the Mesh, Brother": Guerrilla Wi-Fi Comes to New York.
State-specific Legislation
Jump to: • California • Illinois • New Mexico • Vermont • Virginia •
Wondering if your state has had any recent broadband bills? The National Conference of State Legislatures has a list of Broadband 2021 Legislation, searchable by state. NCSL also has a page on state broadband task forces.
New Mexico
In 2021, New Mexico passed two related broadband bills: HB10: Broadband Development Division, and SB93 Broad Band Access and Expansion Act, to create a commission to determine the scope of the problem in New Mexico, to distribute grants for community broadband and to help counties, towns and tribes with laying infrastructure and with applying for grant money.
In 2022, a few areas have seen progress, and the legislature passed HJR1, a proposed constitutional amendment (must be approved by the voters in November) which would make it easier for government agencies to invest in broadband infrastructure.
On Aug 4-6, 2021, the Interim Indian Affairs Committee discussed an interim report on the Rural Infrastructure Needs Study.
Vermont
Vermont passed a broadband bill in May 2021 which allocates $150 million to expand internet access throughout the state.