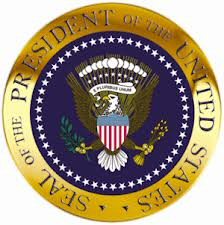 President of the United States
Responses from the Presidential candidates were provided by the League of Women Voters Education Fund, in collaboration with volunteers from the LWV of Maryland.
Ground Rules: The League of Women Voters does not support or oppose any candidate or political party. Information on this web page is Copyright © 2012 by the League of Women Voters Education Fund.
All candidates who meet the criteria below were invited to participate in this guide. The list of candidates on your state's specific ballot may be different.
The candidate must have made a public announcement of her/his intention to run for President;
The candidate must qualify for the ballot in enough states to win a majority of electoral votes; and,
The candidate must meet the Presidential Election Campaign Fund Act's minimum contribution threshold requirements for qualifying for matching funds, based on the most recent data publicly available on the FEC website.
Responses were limited to a specific number of characters and were truncated thereafter.
If a candidate did not respond by the date of publication, "Candidate has not responded." is printed.
Office of the President
Duties: The President is the head of state of the United States of America and is the Chief Executive Officer and is the Commander in Chief of all military forces. The powers of the President are described in the Constitution and federal law. The President appoints the members of the Cabinet, ambassadors to other nations and the United Nations, Supreme Court Justices and federal judges, subject to Senate approval. The President, along with the Cabinet and its agencies, is responsible for carrying out and enforcing the laws of the United States. The President may also recommend legislation to the United States Congress.
How Elected: Every four years, political parties nominate candidates to run for President of the United States in a general election that is held on the first Tuesday in November of years divisible by the number four. Although all parties use conventions to nominate their candidates, in most states the Democratic and Republican parties also run state-wide primary elections. The results of the primary influence how the delegates to their respective party's convention will cast ballots for candidates for President. The degree to which the result of the primary election influences the votes of delegates at conventions varies from state to state.
Term: Four years. Limit of two terms.
Base Salary: $400,000 per year.
Candidates for President

(To read the PDF files, you can download a free copy of Adobe Acrobat Reader:)