WARNING: This archived page references a 2011 study and is no longer being updated.
Redistricting Resources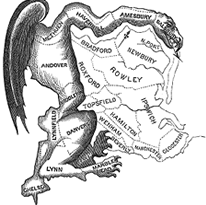 (To read the PDF files referenced on this and other pages, you can download a free copy of Adobe Acrobat Reader:)
League's Redistricting Flyer
The League has prepared a one-page flyer (double-sided, folded) on why redistricting is important and what you can do to make it more successful. Download here: English - Spanish
State Redistricting Committee Holds Last Public Hearings (updated 8.24)
Videos of Hearings Now Online
The League of Women Voters of New Mexico has been attending each of the public hearings of the state's Redistricting Committee and recording the proceeds, unedited and in their entirety. The LCS has put these videos online for public viewing (assuming you have installed Microsoft; Silverlight© software). To find the videos,
From the left side navigation menu, select "Redistricting Committee". You will find most of the map, minutes, and other information you need on this page
Select "Watch Video" from the main part of the page.
Each video is listed by date and city. Have at it!
Schedule announced for Aug 30-31 Meetings in Las Vegas and Santa Fe (PDF)
Schedule announced for Aug 15-16 Meetings in Albuquerque and Rio Rancho (PDF)
Schedule announced for Aug 3-5 Meetings in NW NM (PDF)
The Redistricting Committee will be holding the last of its public meetings on August 30 and 31. In each meeting, Research & Polling president Brian Sanderoff discusses the redistricting process, shows sample maps and explains population changes, and some of the options in changing the layout of the districts: Congressional, Legislature, and PRC. The Redistricting Committee members in attendance have listened to public comments at each meeting.
The last meetings will be held in Las Vegas and Santa Fe. Redistricting concepts for the Public Education Commission have been promised for the final Santa Fe meeting.
The schedule is as follows: As we become aware of details of time and venue, they will be posted here.
July 18, Monday at 10:00am: Clovis - Civic Center Ballroom
July 19, Tuesday at 9:00am: Roswell - NM Military Institute, Daniels Leadership Center, Room 200A/B
July 20, Wednesday at 9:00am: Las Cruces - NM State University, Corbett Center, West Ballroom
August 3, Wednesday at 10:00am: Pueblo of Acoma - Sky City Casino
August 4, Thursday at 9:00am: Gallup - UNM Branch Campus, Calvin Hall
August 5, Friday at 9:00am: Farmington - San Juan College
August 15, Monday at 3:30pm: Albuquerque - West Mesa High School Performing Arts Center at 6701 Fortuna Road NW
August 16, Tuesday at 3:30pm: Rio Rancho - V. Sue Cleveland High School Concert Hall, 4800 Laban Road NW
August 30, Tuesday at 10:00am: Las Vegas - New Mexico Highlands University, in the Kennedy Lounge. You can download a campus map showing the locations of buildings by following the map link
August 31 at 9:00am, Wednesday: Santa Fe in the State Capitol Building at 490 Old Santa Fe Trail, room 307
More Information on State Redistricting
These are documents that have not yet been posted on the Legislature's Redistricting Committee web page.
News Briefs
Albuquerque Redistricting (updated 8.11)
The Albuquerque Redistricting Committee has announced a schedule of public hearings throughout the City. For more information, see Albuquerque Redistricting Committee's page.
The decision of Judge Nash was for both the election and redistricting to proceed. The October municipal election will use the old districts, but following the election, the new districts will be in effect. This is your opportunity to participate. To catch up, check out the City's redistricting page.
The Southwest Organizing Project (SWOP) has weighed in on the ACLU's case against the City of Albuquerque for failing to redistrict prior to the October 2011 city council elections. SWOP's position is to remind Judge Nan Nash of 'the importance of public input into the redistricting process of the City of Albuquerque. Regardless of which way the court rules, it must ensure that the voting rights of historically disenfranchised communities, particularly Chicano and Native Americans, must be taken into consideration. This requires an open process with extensive public participation', said George Lujan, SWOP's spokesperson. SWOP has created a proposal which it will officially introduce into the city redistricting process.
See the article at Democracy for New Mexico
KNME-TV Redistricting Primer
Albuquerque's PBS station has presented a Redistricting Primer show on its New Mexico in Focus public affairs program. The program features local analysis by reporters, legislators, and academics. Check it out!
Las Cruces Passes Redistricting Plans
See the Las Cruces Sun online, for the articles, below.
"Redistricting New Council Map Ok'd", June 6, 2011, by Reyes Mata III
"County Redistricting Plan Would Push Krahling Out of District 4," June 7, 2011, by Diana Alba
ACLU Sues Albuquerque over City Council Redistricting
The Albuquerque City Council voted to postpone redistricting until after the October election, because 2010 Census data was not available until April, and candidate filing deadlines were in March. The ACLU believes this was the wrong decision. Read about it Joe Monahan's blog and the 6/8 Albuquerque Journal. (article may be to subscribers only) See also the ACLU webpage.
More Free Online Redistricting Tools!
Check out Dave's Redistricting tool. For up to date information, see also Dave's Redistricting Blog, dedicated to redistricting and his redistricting software.
Current Articles
Data and Tools
Basics
Current Efforts
Research & Polling, the Albuquerque company that has been involved in the decennial redistricting for over 30 years
Legislation
History of the Fair Representation Study Group
At its 2007 state Convention, the League of Women Voters of New Mexico approved a two-year study of Fair Representation to explore not only redistricting but also different systems of representation and voting. The focus was to be on understanding the relationships among these systems as they impact Congress and the New Mexico State Legislature. A more detailed description of the study is on p. 4 of the Spring 2007 issue of La Palabra.
When the Study Group had concluded, a new LWV NM position on redistricting had been approved by the membership. The study group has been disbanded, but Redistricting Committees are being formed within the local Leagues. This page provides links to these groups, other redistricting efforts, and general information. 1.22.2011 Information from the LWV Us's Redistricting Reading List (PDF, KB) has been incorporated into the Resources, below.