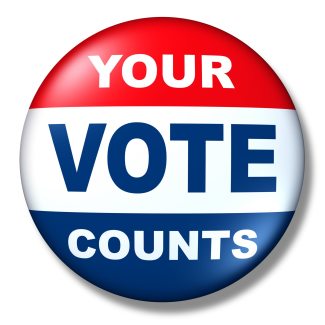 Candidate and Ballot Information: LWVNM Voter Guide
The League of Women Voters promotes informed and active participation of citizens in government and produces non-partisan, comprehensive Voter Guides. The League of Women Voters does not support, oppose, or make recommendations regarding any political party or candidate. To help voters make informed choices, the League of Women Voters interviews candidates for most of the competitive races on key issues and prints their unedited responses. Summaries of proposed constitutional amendments and other ballot questions are also included in Voter Guides. Please check this website in early October of election years for the links to the statewide and local Voter Guides for Central New Mexico, Southern New Mexico, Los Alamos County, and Santa Fe County.
In 2020, our local leagues prepared printed Voter Guides as they have in the past, but we also had an online Voter Guide. We will continue that for future elections.
Registering to Vote
Who's eligible to vote in New Mexico?
A U.S. citizen who is a New Mexico resident and at least 18 years old on Election Day.
Someone who has not been denied the right to vote by a court of law because of mental incapacity.
A person who is not a convicted felon or is a felon who has completed all of the terms and conditions of sentencing
You can register to vote online at www.nmvote.org.
Supply your social security number, your driver's license number or state identification number, and your date of birth, and you're done. Online registration is safe, quick, and accurate.
Normally, you can also register at your county clerk's office, at a New Mexico Motor Vehicle Division (MVD) site or public assistance or health office, or through a third-party registrar, but the pandemic has brought uncertainty. You can also print the national voter registration form online, fill it out and mail to the Secretary of State or your county clerk. Information for all 33 county clerk offices.
Newly registered voters who submitted the registration form by mail will need to submit some proof of ID when they vote:
a current or expired New Mexico state identification; or
a current utility bill, bank statement, government check, paycheck, student identification card or other government document, including identification issued by an Indian nation, tribe or pueblo that shows your name and current address.
Already registered?
Confirm that your current voter registration is up-to-date and your social security number is correct.
Find out what's on your ballot, voting dates and locations as well as absentee ballot information.
Update your registration if your legal name or address has changed. You can also declare a major political party and/or change your party affiliation.
Voting Districts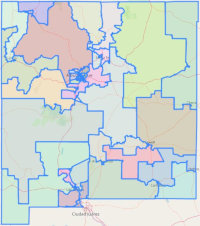 Want to know what district you're in or who your legislators are? Type your address into Find My Legislator on the legislative website. Or use the Voter Information Portal at the Secretary of State's office.
Just want to browse all the district maps? The LWVNM has interactive maps and data for New Mexico's political districts: see LWVNM District Maps.