Local Leagues in New Mexico
The League of Women Voters of New Mexico
505.884.8441
2315 San Pedro NE, Suite F-6
Albuquerque, NM 87110
(Office staffed weekday mornings)
President: Judy Williams
The LWVNM Board, 2018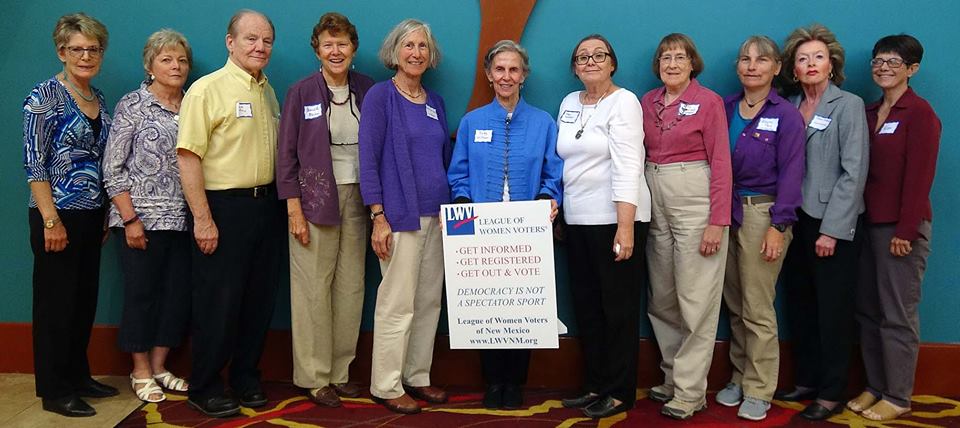 Left to right: Janet Blair, Diane Goldfarb, Dick Mason, Meredith Machen, Barbara Calef, Judy Williams, Karen Wentworth, Becky Shankland, Akkana Peck, Karen Douglas, Kim Sorenson.
Not pictured: Suzanne Ronneau, Chris Furlanetto, Laura Atkins, Judy Binder, Leah Ingraham.
Local Leagues in New Mexico
League of Women Voters of Central New Mexico
505.884.8441
2315 San Pedro NE, Suite F-6
Albuquerque, NM 87110
(Office staffed weekday mornings)

League of Women Voters of Greater Las Cruces
575.524.VOTE (8683)
P.O. Box 15142
Las Cruces, NM 88006

League of Women Voters of Los Alamos
P.O. Box 158
Los Alamos, NM 88544

League of Women Voters Santa Fe County
505.982.9766
1472 St. Francis Drive
Santa Fe, NM 87505


Please send emails to leaders (at) lwvnm (dot) org if you want to reach anyone whose personal emails are not listed for privacy purposes.
Off Board Positions

| | |
| --- | --- |
| Budget Committee | appointed 4 months before convention |
| La Palabra Editor | Janet Blair |
| Member Database | Lynn Jones |
| Health Care | Dick Mason, Judy Williams, Akkana Peck |
| Natural Resources | Judy Williams and Barbara Calef |
| Archivist/Historian | |
| Nominating Committee | |
| Voter Guide Assistant | Lynn Jones |