2020 Census
The 2020 Census is of critical importance to New Mexico. We'll be working hard to get every New Mexican counted. Read about it on our 2020 Census page.
2019 Session: League Priorities and Fact Sheets
The 2019 Legislative Session is now over, and bills are on the Governor's desk.
Read our state League priorities and fact sheets for the 2019 session on the Action page. Or follow the list of bills we're supporting and opposing on our Legislative Tracking Sheet.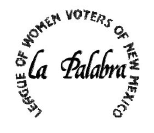 Latest La Palabra
The Spring 2019 La Palabra (PDF, 1072 KB) newsletter is out.
Highlights: Call to State Convention; Reports on the 2019 legislative session; Program Items and Proposed Bylaws Amendments to be Considered at Convention; Proposed 2019-2020 Budget; Committee Reports; Local League News.
Keep up to date by reading La Palabra!
For issues of La Palabra dating back to 2005, see the Newsletters page.
How to Contact Your Legislator
Want to connect with your legislator? See our page on Contact Info for New Mexico Legislators.
Want to reach NM's Congressional delegation? The Congressional toll-free number is 1-866-727-4894 . Just ask for your representative or senator. Please remember that you are speaking as an individual and not for the League.