Local Leagues in New Mexico
2020 Census
The 2020 Census is of critical importance to New Mexico. We'll be working hard to get every New Mexican counted. Read about it on our 2020 Census page.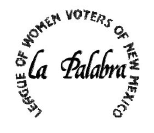 Latest La Palabra
The Summer 2019 La Palabra (PDF, 1.1 Mb) newsletter is out.
Highlights: Introduction from new President Hannah Burling; LWVNM Leadership Changes; Program Outcomes and Directions to the Board from the State Convention; New Study of Judicial Qualifications/Selection Process; Report on National LWVUS Council; Suffrage Centennial:National Recognition for Nina Otero Warren, Suffragist and League Leader; LWVUS on the Broadway Stage; Changes for Voter Registrars; Committee Reports; Local League News.
Keep up to date by reading La Palabra!
For issues of La Palabra dating back to 2005, see the Newsletters page.
How to Contact Your Legislator
Want to connect with your legislator? See our page on Contact Info for New Mexico Legislators.
Want to reach NM's Congressional delegation? The Congressional toll-free number is 1-866-727-4894 . Just ask for your representative or senator. Please remember that you are speaking as an individual and not for the League.