2019 Session: League Priorities and Fact Sheets
The 2019 Legislative Session is underway!
Read our state League priorities and fact sheets for the 2019 session on the Action page. Or follow the list of bills we're supporting and opposing on our Legislative Tracking Sheet.
League Days at the Legislature, February 6 and 7 2019
Members and legislators only: Legislative reception, Wednesday, February 6, 5:30 - 7:30 pm, at Rio Chama, 414 Old Santa Fe Trail, Santa Fe.
Secretary of State Maggie Toulouse Oliver will speak on voting rights priorities for the session.
Then on February 6, everyone is welcome to join us for League Day at the Legislature, Thursday, February 7, 10:00 - noon, at the State Land Office, Morgan Hall, 310 Old Santa Fe Trail, across from Garrett's Desert Inn.
Welcome from Stephanie Garcia Richard, State Land Commissioner
Enabling Legislation for the State Ethics Commission - Former Representative Jim Dines, sponsor of constitutional amendment
Taxes and Funding for Essential Services - Amber Wallin, Deputy Director, New Mexico Voices for Children
Meet with legislators as individuals or in groups.
Rooms are available at Garrett's Desert Inn for $79 plus tax (free parking). 311 Old Santa Fe Trail, Santa Fe, NM 87501 Call (505) 982-1851.
More information: League Days at the Legislature 2019.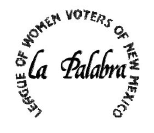 Latest La Palabra
The Winter 2019 La Palabra (PDF, 988 KB) newsletter is out.
Highlights: Journalism Under Fire; Advocacy Workshop; Call to Convention; Spent Nuclear Fuel Storage Study Committe Progress; Report on CAVU film; Upcoming League Days at the Legislature; Local League News.
Keep up to date by reading La Palabra!
For issues of La Palabra dating back to 2005, see the Newsletters page.
How to Contact Your Legislator
Want to connect with your legislator? Use Find My Legislator on the New Mexico Legislator website.
Or download the PDF mailing lists: the Senate Mailing List and the House Mailing List.
Want to reach NM's Congressional delegation? The Congressional toll-free number is 1-866-727-4894 . Just ask for your representative or senator. Please remember that you are speaking as an individual and not for the League.