The Statewide Voter Guide is Live!
Our online Voter Guide, Vote411, is live! For the first time, we're covering the whole state of New Mexico.

Enter an address, click on Enter. Vote411 will open in a new tab, and you can click on Explore Now to see all the races that will be on your ballot in this election, information on candidates and where they stand on the issues.

You can also get general New Mexico Voting Information there.

The four Local Leagues will still distribute their printed Voter Guides for their areas, as they've done in the past.
During the COVID-19 Emergency, Consider Voting Absentee
You can request an absentee ballot at the Secretary of State's Voter Information Portal.
For more information about voting, voter registration and the election, see our Voter Information Page.
Voting Info from the Secretary of State
October 14: The Secretary of State has a new pamphlet with all the information you need to know about voting in New Mexico: 2020 New Mexico General Election Voter Information Advisory (PDF).
Advocacy Workshop December 5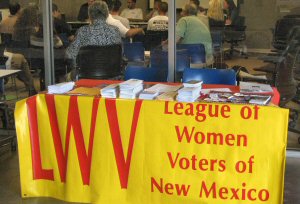 The League of Women Voters of New Mexico Presents:
Effective Citizen Advocacy at the Legislature.
Saturday, December 5 - 10 am to noon, online. Save the date! The public is invited.
Learn tips from legislators and a professional lobbyist on how to interact with legislators, speak at hearings, and advocate for your cause.
Speakers:
Senator Nancy Rodriguez - D-Santa Fe
Representative Rebecca Dow – R – Grant, Hidalgo & Sierra
Jim Jackson, Former Chief Executive Officer of Disability Rights New Mexico, an independent private non-profit organization authorized through federal law to protect and promote the rights of persons with disabilities.
Current Activities
The League is leading the Fair Districts for New Mexico Project, promoting fair and transparent redistricting for New Mexico following the 2020 census. Please visit the Fair Districts web site for updates.
The 2020 Census is also of critical importance to New Mexico. We'll be working to get every New Mexican counted. Read about it on our 2020 Census page.
Our Action Committee is gearing up for the 2021 legislative session; stay tuned for information on League Day and our legislative priorities for this session.
For more ongoing activities, see our Programs page.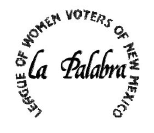 Latest La Palabra
The Fall 2020 La Palabra (PDF, 4.2 Mb) newsletter is out.
LWVNM Primary Elections position re-analysis; Legislative Advocacy Workshop Dec. 5; Judicial Selection process; Absentee ballot processing; Redistricting; Local League News.
Keep up to date by reading La Palabra!
For issues of La Palabra dating back to 2005, see the Newsletters page.
How to Contact Your Legislator
Want to connect with your legislator? See our page on Contact Info for New Mexico Legislators.
Want to reach NM's Congressional delegation? The Congressional toll-free number is 1-866-727-4894 . Just ask for your representative or senator. Please remember that you are speaking as an individual and not for the League.