A 100-Year Minute
IF YOU'RE A US CITIZEN, YOU CAN VOTE. WELL, MAYBE.
We're celebrating the 100th anniversary of the passage of the 19th Amendment this year. It was an important milestone in our history. Women across the country were finally allowed to vote.
Having a vote means having a voice, having a say, being able to influence the government which affects your life. It's extremely important.
Today, the Voting Rights Act of 1965 which strengthened the voting rights of minorities in every state has been weakened, and states are passing new voting requirements to make it harder for minorities to vote. US Senator Udall, NM, has introduced the Native American Voting Rights Act of 2019 to address many of the voting barriers facing this population.
"Native Americans have unequal opportunities to register to vote because of the absence of in-person registration opportunities on reservations. Election officials do not accept tribal identification cards under strict voter ID laws, or they reject registration applications from Native Americans lacking a physical address. Those who are able to register are confronted by great distances to off-reservation voting locations, often in places like sheriff's offices where they do not feel welcome.
The few polling places located on reservations may be closed for pretextual reasons. In places where mail-in voting occurs, Native voters may not have the financial means to pay the poll tax in the form of postage to return their ballot, or may be unable to access ballot drop-off sites located several hours away off-reservation. Limited-English proficient Native voters frequently are denied access to voting information that voters receive in English, especially before Election Day." *
*(source: press release from LWVUS and other civil rights organizations, March 11, 2019)
2020 Census
The 2020 Census is of critical importance to New Mexico. We'll be working hard to get every New Mexican counted. Read about it on our 2020 Census page.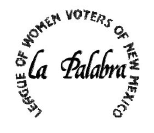 Latest La Palabra
The Summer 2019 La Palabra (PDF, 1.1 Mb) newsletter is out.
Highlights: Introduction from new President Hannah Burling; LWVNM Leadership Changes; Program Outcomes and Directions to the Board from the State Convention; New Study of Judicial Qualifications/Selection Process; Report on National LWVUS Council; Suffrage Centennial:National Recognition for Nina Otero Warren, Suffragist and League Leader; LWVUS on the Broadway Stage; Changes for Voter Registrars; Committee Reports; Local League News.
Keep up to date by reading La Palabra!
For issues of La Palabra dating back to 2005, see the Newsletters page.
How to Contact Your Legislator
Want to connect with your legislator? See our page on Contact Info for New Mexico Legislators.
Want to reach NM's Congressional delegation? The Congressional toll-free number is 1-866-727-4894 . Just ask for your representative or senator. Please remember that you are speaking as an individual and not for the League.