The 2021 Legislative Session and Special Session are Over!
The session was very productive. See the Action page for details on the bills and issues we were supporting.
Call to State Convention
The LWVNM state convention, hosted by the League of Women Voters of Southern New Mexico, will take place April 24-25, 2021 via Zoom.
Network with members from all over New Mexico
Kick off the meeting with a welcome from a Las Cruces City Councilor
Hear from our LWVUS Liaison
Learn the forecast for the economic future of New Mexico
Learn the forecast for the future of our democracy
Elect a new board, consider bylaws changes, adopt a budget, and more
In lieu of a silent auction, please make a donation to the LWVNM
More details in the Spring 2021 La Palabra.
Register here: Saturday Sunday
In addition to registering for the two Zoom days, please also fill out the 2021 Convention Registration Form and email it to lwvsnm@gmail.com.
Registration for two separate days must be received by the deadline of April 15, 2012
There is no registration fee since the meeting is online. But you can choose to make a donation.
Current Activities
The League is leading the Fair Districts for New Mexico Project, promoting fair and transparent redistricting for New Mexico following the 2020 census. Please visit the Fair Districts web site for updates.
Our Action Committee is gearing up for the 2021 legislative session: watch this space for more information about how you can get involved or just keep informed.
For more ongoing activities, see our Programs page.
Under the Education Committee, please see the Study Guide for the Education Update Consensus Meetings held by the local Leagues in February and the current Education Position with Board approved additions.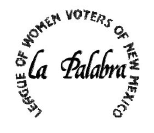 Latest La Palabra
The Spring 2021 La Palabra (PDF, 1.7 Mb) newsletter is out.
Call to State Convention; Program Items for Convention; Board Nominations; Proposed Budget; Action Committee report on the 2021 session; JEDI report; Local League News.
Keep up to date by reading La Palabra!
For issues of La Palabra dating back to 2005, see the Newsletters page.
How to Contact Your Legislator
Want to connect with your legislator? See our page on Contact Info for New Mexico Legislators.
Want to reach NM's Congressional delegation? The Congressional toll-free number is 1-866-727-4894 . Just ask for your representative or senator. Please remember that you are speaking as an individual and not for the League.