2021 Legislative Session Calendar
| | |
| --- | --- |
| January 4 - 15 | Legislation may be pre-filed |
| January 14 | LWVNM Legislative Priorities - Noon to 1:30 pm |
| January 19 | Opening day (noon) |
| February 18 | Deadline for introduction |
| February 18 | League Day at the Legislature |
| March 20 | Session ends (noon) |
| April 9 | Legislation not acted upon by governor is pocket vetoed |
| June 18 | Effective date of legislation not a general appropriation bill or a bill carrying an emergency clause or other specified date |
New Mexico Legislature Website
The Legislative website is nmlegis.gov.
How to use the Legislative website (Word doc: NMlegWeb20final.doc)
Want to contact your legislators? Senate House
Or see our Contact Your Legislator page.
How the session will operate given the pandemic
The session will be totally virtual for the public.
How to make public comment virtually to committees
Tips for effective testifying (Word doc: LWVNMtips20a.doc)
The House and Senate processes may differ: check back here for the latest info.
For committee meetings, see: Procedure and Guidelines for Public Comment at a Video Conference Standing Committee Meeting.
Anything here may change, so check back regularly.
LWVNM positions and information on key legislation
Find out more about how to follow the legislature and take action on our Action page.
Current Activities
The League is leading the Fair Districts for New Mexico Project, promoting fair and transparent redistricting for New Mexico following the 2020 census. Please visit the Fair Districts web site for updates.
Our Action Committee is gearing up for the 2021 legislative session: watch this space for more information about how you can get involved or just keep informed.
For more ongoing activities, see our Programs page.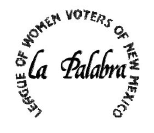 Latest La Palabra
The Winter 2021 La Palabra (PDF, 3.5 Mb) newsletter is out.
League Day at the Legislature; Redistricting Reform; 2020 General Election Report; Vote411; Ethics Coalition Report; Call to Convention; Spent Nuclear Fuel Storage Update; Observer Corps; Local League News.
Keep up to date by reading La Palabra!
For issues of La Palabra dating back to 2005, see the Newsletters page.
How to Contact Your Legislator
Want to connect with your legislator? See our page on Contact Info for New Mexico Legislators.
Want to reach NM's Congressional delegation? The Congressional toll-free number is 1-866-727-4894 . Just ask for your representative or senator. Please remember that you are speaking as an individual and not for the League.