A 100-Year Minute
Women finally gained the right to vote with the passage of the 19th Amendment 100 years ago. But, earlier than that, in the 1840's, a group of women gathered AT A CONVENTION to discuss women's rights. Together, they resolved a woman should be able to keep and control funds she raised, and she should also be able to divorce an abusive husband. This was at a time when married women had no right to property or even their own wages. But, the most controversial demand made at that convention was Women Should Have the Right to Vote. NOT EVERYONE agreed.
2020 Legislative Session
The 2020 legislative session runs from January 21 to February 20. This is a 30 calendar day session and they can only consider legislation that is directly related to the budget, plus issues that are included in a message by the Governor to the Legislature. Memorials and joint resolutions can also be considered.
Follow our Action page for LWVNM priorities and activity, including our Tracking Sheet.
Current Activities
The League is leading the Fair Districts for New Mexico Project. The goal is to promote fair and transparent redistricting for New Mexico following the 2020 census. Please visit the Fair Districts web site for updates.
The 2020 Census is also of critical importance to New Mexico. We'll be working to get every New Mexican counted. Read about it on our 2020 Census page.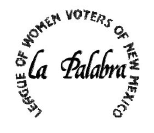 Latest La Palabra
The Winter 2020 La Palabra (PDF, 2.7 Mb) newsletter is out.
President's Corner; League Days and 100th Anniversary Celebration; Reception and celebration; League Day accommodations; Special speaker; Redistricting project; Advocacy workshop summary; League legislative priorities; Judicial selection study; Program, proposed positions; Spent nuclear fuel advocacy group report; Local League News.
Keep up to date by reading La Palabra!
For issues of La Palabra dating back to 2005, see the Newsletters page.
How to Contact Your Legislator
Want to connect with your legislator? See our page on Contact Info for New Mexico Legislators.
Want to reach NM's Congressional delegation? The Congressional toll-free number is 1-866-727-4894 . Just ask for your representative or senator. Please remember that you are speaking as an individual and not for the League.