Transfer of Federal Public Lands Now a National Position!
The LWVUS Convention was held the weekend of June 26-27 and we scored a major victory! Our Transfer of Federal Public Lands position was adopted by concurrence. As a concurrence, we needed a two-thirds vote, but after debate on Friday we weren't sure it would pass. Many delegates hadn't read the position or didn't understand it and its rationale. But on Saturday a delegate from Florida moved to allow more debate. We had some good speakers in favor. In addition, we sent a new message to the LWVUS leaders list stating the position and why it is important. Finally, Judy Williams pasted the position itself into the Q&A so the delegates could see it.
Now the LWVNM position on the Transfer of Federal Public lands is a national position!  Delegates from the Western states were supportive, particularly those from Utah, Montana and Nevada.
You can get more details about the caucus and the position, and watch the video, on our Transfer of Federal Public Lands page.
Kerner Commission Webinar
On June 16, 2020 at 6:30 p.m., the League of Women Voters of New Mexico hosted a webinar with former Senator Fred Harris (D-OK), now a resident of Corrales and an adjunct professor at UNM. He discussed the current demonstrations and how the findings of the Kerner Commission (issued after the civil unrest of the 1960s) can help us better understand the frustrations of the African American community.
Current Activities
The League is leading the Fair Districts for New Mexico Project. The goal is to promote fair and transparent redistricting for New Mexico following the 2020 census. Please visit the Fair Districts web site for updates.
The 2020 Census is also of critical importance to New Mexico. We'll be working to get every New Mexican counted. Read about it on our 2020 Census page.
For more ongoing activities, see our Programs page.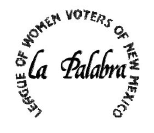 Latest La Palabra
The Spring 2020 La Palabra (PDF, 5.0 Mb) newsletter is out.
Call to LWVNM Council; 100th Anniversary festivities; Judicial Selection Study Committee report; Fair Districts NM; Spent nuclear fuel update; National Votes for Women Trail; VOTE411: electronic and statewide! Local League News.
Keep up to date by reading La Palabra!
For issues of La Palabra dating back to 2005, see the Newsletters page.
How to Contact Your Legislator
Want to connect with your legislator? See our page on Contact Info for New Mexico Legislators.
Want to reach NM's Congressional delegation? The Congressional toll-free number is 1-866-727-4894 . Just ask for your representative or senator. Please remember that you are speaking as an individual and not for the League.