During the COVID-19 Emergency, Consider Voting Absentee
The NM Supreme Court has decided against an all-mail election. But each voter still has the choice to request an absentee ballot. No excuse needed. Apply now!
Details on the Secretary of State website: ABSENTEE VOTING FOR THE 2020 PRIMARY ELECTION.



A 100-Year Minute
100 years ago, the 19th Amendment was passed, giving women the right to vote. A Santa Fe woman, Nina Otero Warren, worked hard to see this happen.
Nina was born in the 1800's to a wealthy Spanish American family. One of her close relatives became the Governor of the Territory of New Mexico. She had the best education a wealthy girl could have, first with private tutors and then attending a boarding school. But, because she was a girl, her education stopped at age 13.
She was expected to marry young and take care of her home and family. Working for a political cause was unthinkable. Nina had other ideas. Living in Santa Fe at the time, she was instrumental in involving influential Spanish American women and men in the suffrage issue which was critical to New Mexico's legislature ratifying the 19th Amendment – the 32nd state to do so.
The 2020 Primary Voter Guide is Here!
For the 2020 primary, we have an online Voter Guide: VOTE411 New Mexico Primary Voter Guide.

Enter an address to see all the races that will be on your ballot in this election, information on candidates and where they stand on the issues.

The Los Alamos and Santa Fe Leagues have also published printed Voter Guides for the primary. For the general election, all four local Leagues will publish Voter Guides in addition to the online VOTE411 guide.
Current Activities
The League is leading the Fair Districts for New Mexico Project. The goal is to promote fair and transparent redistricting for New Mexico following the 2020 census. Please visit the Fair Districts web site for updates.
The 2020 Census is also of critical importance to New Mexico. We'll be working to get every New Mexican counted. Read about it on our 2020 Census page.
For more ongoing activities, see our Programs page.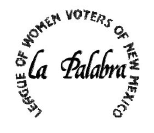 Latest La Palabra
The Spring 2020 La Palabra (PDF, 5.0 Mb) newsletter is out.
Call to LWVNM Council; 100th Anniversary festivities; Judicial Selection Study Committee report; Fair Districts NM; Spent nuclear fuel update; National Votes for Women Trail; VOTE411: electronic and statewide! Local League News.
Keep up to date by reading La Palabra!
For issues of La Palabra dating back to 2005, see the Newsletters page.
How to Contact Your Legislator
Want to connect with your legislator? See our page on Contact Info for New Mexico Legislators.
Want to reach NM's Congressional delegation? The Congressional toll-free number is 1-866-727-4894 . Just ask for your representative or senator. Please remember that you are speaking as an individual and not for the League.