Election Results
You can get New Mexico election results at the Secretary of State's website: NM Secretary of State: Election Results.
2019 League Priorities and Fact Sheets
Our state League priorities and fact sheets for the 2019 legislative session are now available. See the Action page for details.
Advocacy Workshop December 8
The League of Women Voters of New Mexico will present its annual workshop on Effective Citizen Advocacy at the Legislature Saturday, Saturday, December 8, 2018, 10:00 am to Noon, at the New Mexico State Capitol, Room 322 (enter on the East side only).
The public is invited.
Learn tips from legislators and a professional lobbyist on how to interact with legislators, speak at hearings, and advocate for your cause.
Speakers:
Senator Peter Wirth, D-Santa Fe, District 25
Senator Sander Rue, R-Albuquerque, District 23
Jim Jackson, Formerly CEO of Disability Rights New Mexico
Repeal New Mexico's Outdated Anti-abortion State Statute
The League strongly supports reproductive choice for all women. Because we respect New Mexico women and families, we urge the Legislature and Governor of New Mexico to pass a bill repealing the outdated anti-abortion state statute currently on the books and permanently protect access to reproductive health care, including abortion. We believe legislators should pass this bill with urgency in the next legislative session.
Please sign the Progress Now petition to Permanently Protect Abortion Access.
Or download, print and sign:

Reproductive Choice Petition (PDF, 36K)
Reproductive Choice Petition (DOCX, 58K)

Mail signed petitions to:
Diane Goldfarb, Voter Services Chair, LWVNM
2315 San Pedro NE, Suite F-6
Albuquerque, NM 87110
Save the date: Reception and League Day Feb 6-7
League Day at the Legislature wil be February 7, with the Legislative Reception the night before. Watch this space for more info.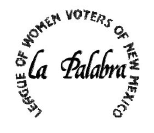 Latest La Palabra
The Fall 2018 La Palabra (PDF, 888 KB) newsletter is out.
Highlights: News on our Voter Guides, and on the upcoming Census; Action committee preview of the 2019 Legislative Session; In-depth report on the Transfer of Federal Public Lands study, with concensus questions; Presentation on Early Childhood Education; Local League reports.
Keep up to date by reading La Palabra!
For issues of La Palabra dating back to 2005, see the Newsletters page.
How to Contact Your Legislator
Want to connect with your legislator? Use Find My Legislator on the New Mexico Legislator website.
Or download the PDF mailing lists: the Senate Mailing List and the House Mailing List.
Want to reach NM's Congressional delegation? The Congressional toll-free number is 1-866-727-4894 . Just ask for your representative or senator. Please remember that you are speaking as an individual and not for the League.