The 2023 Legislative Session
The legislative session runs from Jan 17 to March 18. See the Bills we're tracking in 2023. For more details, see the Action page.
Watch: Effective Advocacy at the Legislature
Hannah Burling, President of the League of the League of Women Voters of New Mexico stated "For over 15 years the League has been proud to present this forum that prepares the public to be effective advocates at the legislature." Saturday, January 7, 2023, 10 a.m. to noon.
Learn tips from legislators and an experienced lobbyist about how to interact with legislators, speak at hearings, and advocate for your cause. This is training about the legislative process, not about specific issues. Special Focus on the Budget and Taxes
Speakers:
Senator Mark Moores (R-Albuquerque) – Member of Senate Rules & Judiciary; Representative Kristina Ortez (D-Taos) – Member House Government, Elections & & Indian Affairs and House Energy, Environment & Natural Resources; and Linda Siegle - president of a consulting company focused on lobbying the legislature for non-profit agencies.

Call to Convention
The LWVNM Convention will be held in Los Alamos on April 29 and 30. There will be a reception on the evening of April 28. Please reserve a room at the Holiday Inn Express, 60 Entrada Dr. if you plan to stay overnight in Los Alamos. To reserve a room at a nightly rate of $119+tax/double room, call the hotel directly at 505-661-2646 and refer to the League of Women Voters. Reservations must be made by March 29, 2023 to get the special rate.
For more details about the convention, see the next La Palabra.
A Guide to New Mexico's Tax System
A useful article from NM Voices for Children: A Guide to New Mexico's Tax System.
Learn how the state collects money, and why it matters.
New Mexico Listens video
Strengthening democracy through community conversations.
Glimpse some of the recent programs LWVNM offered with support from the NM Humanities Council and the National Endowment for the Humanities. For more information and to suggest future programs, please contact projects at lwvnm.org.
Video: Independent Redistricting Commission
A 90 Second Video to Promote an Independent Redistricting Commission for New Mexico.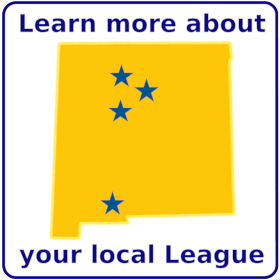 Join us!
LWVNM has four local Leagues:
You can join your local League (click on the links above), or join LWVNM as a Member at Large.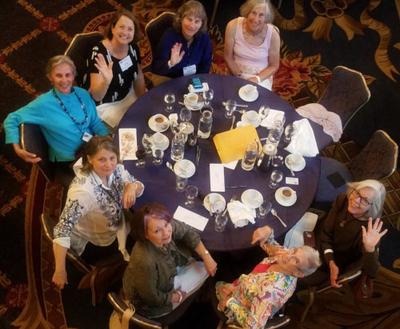 Current Activities
The LWVNM Legislative Prep presentation will be on Thursday, Jan 12, 2023, and is open to everybody.
The 2023 Legislative Reception and League Day will be Feb 15-16, 2023. For an idea what we'll offer, see 2022 League Day and Legislative Reception.
The League is leading the Fair Districts for New Mexico Project, promoting fair and transparent redistricting for New Mexico. Please visit the Fair Districts web site for updates. Or watch the 90 Second Video to Promote an Independent Redistricting Commission.
Our Action Committee monitors the legislature every year and advocates for bills on issues we've studied.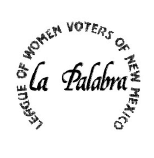 Latest La Palabra
The Winter 2023 La Palabra (PDF, 1.2Mb) newsletter is out.
President's Report; Advocacy Workshop; Action and Redistricting Reports; First Call to Convention 2023; Observer Experience at COP27; Local League News.
Keep up to date by reading La Palabra!
For issues of La Palabra dating back to 2005, see the Newsletters page.
How to Contact Your Legislator
Want to connect with your legislator? See our page on Contact Info for New Mexico Legislators.
Want to reach NM's Congressional delegation? The Congressional toll-free number is 1-866-727-4894. Just ask for your representative or senator. Please remember that you are speaking as an individual and not for the League.