Primary Election Results
You can get New Mexico election results at the Secretary of State's website: NM Secretary of State: Election Results.
General Election Day: November 6, 2018
Early voting starts the same day as voter registration ends: 28 days before Election Day, October 9.
For elections info, go to NMVote.org. Find out how to register and where to vote, get a sample ballot with candidate information, apply for an absentee ballot, or see the wording for Constitutional amendment questions and statewide bonds.
Voter Guides
Links to our voter guides will be posted here in time for early voting. For additional election information, visit our Voter Information page.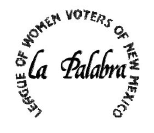 Latest La Palabra
The Spring 2018 La Palabra (PDF, 891 KB) newsletter is out.
Highlights: Call to Council; Report on the 2018 Legislative Session; A Reprieve from Drilling near Chaco; Report on Spent Nuclear Fuel Transportation; Transfer of Public Lands report; Local League News.
Keep up to date by reading La Palabra!
For issues of La Palabra dating back to 2005, see the Newsletters page.
How to Contact Your Legislator
Want to connect with your legislator? Use Find My Legislator on the New Mexico Legislator website.
Or download the PDF mailing lists: the Senate Mailing List and the House Mailing List.
Want to reach NM's Congressional delegation? The Congressional toll-free number is 1-866-727-4894 . Just ask for your representative or senator. Please remember that you are speaking as an individual and not for the League.