Video: Redistricting in New Mexico: A Troubled History & Opportunities for Change
Writer and reporter Gwyneth Doland, of New Mexico In Depth, speaks about the historical aspects of redistricting in New Mexico, how they impact redistricting today, and what we might expect in redistricting 2021. Doland is the author of Redistricting NM 2021; A troubled history and opportunities for change.
View the video of our webinar on Redistricting in New Mexico.
The passcode is: S$%=7s@H
Want to do your own redistricting for New Mexico?
Check out an open source program developed by the MGGG Lab atTufts University. Advocates in New Mexico have tried this and have been impressed. Main link: https://districtr.org/. Or go straight to the link for New Mexico. Read about details of the software (PDF).
Advocacy Workshop December 5
The League of Women Voters of New Mexico Presents:
Effective Citizen Advocacy at the Legislature.
Saturday, December 5 - 10 am to noon, online. The public is invited.
Learn tips from legislators and a professional lobbyist on how to interact with legislators, speak at hearings, and advocate for your cause.
For more details, useful documents and a registration link, see the Action page.
Current Activities
The League is leading the Fair Districts for New Mexico Project, promoting fair and transparent redistricting for New Mexico following the 2020 census. Please visit the Fair Districts web site for updates.
The 2020 Census is also of critical importance to New Mexico. We'll be working to get every New Mexican counted. Read about it on our 2020 Census page.
Our Action Committee is gearing up for the 2021 legislative session; stay tuned for information on League Day and our legislative priorities for this session.
For more ongoing activities, see our Programs page.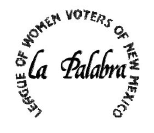 Latest La Palabra
The Fall 2020 La Palabra (PDF, 4.2 Mb) newsletter is out.
LWVNM Primary Elections position re-analysis; Legislative Advocacy Workshop Dec. 5; Judicial Selection process; Absentee ballot processing; Redistricting; Local League News.
Keep up to date by reading La Palabra!
For issues of La Palabra dating back to 2005, see the Newsletters page.
How to Contact Your Legislator
Want to connect with your legislator? See our page on Contact Info for New Mexico Legislators.
Want to reach NM's Congressional delegation? The Congressional toll-free number is 1-866-727-4894 . Just ask for your representative or senator. Please remember that you are speaking as an individual and not for the League.