A 100-Year Minute
One hundred years ago, in 1920, the 19th Amendment became law and women gained the right to vote. In Illinois, the legislature had given many women this right 7 years earlier in 1913, and in the spring of 1914 more than 150,000 Chicago women registered to vote.
Oh, my. What must the political power brokers in Chicago have been thinking!
Then, Chicago hosted a meeting in 1920 where the National American Woman Suffrage Association formally DISBANDED and was replaced with THE LEAGUE OF WOMEN VOTERS.
The LEAGUE, of course, still exists today. Happy 100th Birthday to the League of Women Voters.
Upcoming Events
Our Advocacy Workshop is coming up on December 7. Prepare for the 2020 Legislative Session!
On Thursday, February 6, 2020, the public will be invited to an event celebrating both the 100th birthday of the League of Women Voters and the centennial of New Mexico's ratification of the 19th Amendment to the Constitution. Working with allied non-partisan partners, we will have displays appropriate to the occasion, and people will be encouraged to wear suffrage garb. Senator Nancy Rodriguez and Rep. Joanne Ferrary, League members from Santa Fe and Las Cruces respectively, are sponsoring legislative memorials recognizing the League's history and accomplishments that will be read in their respective chambers that day. We will have 12 display tables in the West Hall starting at 8 am and then break around 12:30 pm for some fun. We expect to have speakers and refreshments from 1-2 pm. We are inviting the governor to speak and deliver proclamations about the dual occasion, and we will celebrate with other speakers, music, and refreshments. Use your creativity to help us recognize this important democratic milestone with flair. Here's to the 2020 Women's Vote Centennial!
2020 Census
The 2020 Census is of critical importance to New Mexico. We'll be working hard to get every New Mexican counted. Read about it on our 2020 Census page.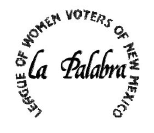 Latest La Palabra
The Fall 2019 La Palabra (PDF, 1.6 Mb) newsletter is out.
President's Corner, Improving Redistricting in New Mexico, Advocacy Workshop, Independent Ethics Commission Report, Save the Dates!, LWVLA Meets with Brian Blalock, Action Committee Report, League Day Plans Focus on Suffrage Anniversary, Suffrage Timeline for New Mexico, Spent Nuclear Fuel Advocacy Group Report, Local League News.
Keep up to date by reading La Palabra!
For issues of La Palabra dating back to 2005, see the Newsletters page.
How to Contact Your Legislator
Want to connect with your legislator? See our page on Contact Info for New Mexico Legislators.
Want to reach NM's Congressional delegation? The Congressional toll-free number is 1-866-727-4894 . Just ask for your representative or senator. Please remember that you are speaking as an individual and not for the League.