LWVNM Elects Hannah Burling as New State President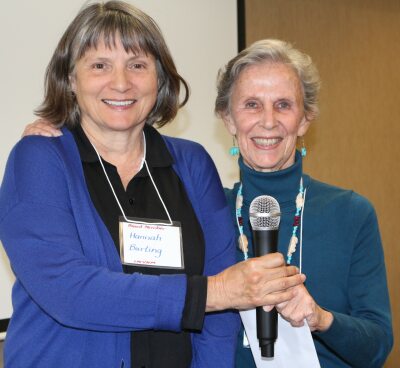 May 25, 2019:
Hannah Burling of Santa Fe has been elected to a two-year term as president of the League of Women Voters of New Mexico. The action came at the League's biennial convention held in Los Alamos over the weekend. Burling is a long-time resident of New Mexico. She has served on the Board of Directors of the League of Women Voters of Santa Fe County and chairs the Santa Fe League's Action & Advocacy Committee. She has been a school librarian and volunteered for years with the Adelante program, working with children and youth experiencing homelessness in Santa Fe.
"I look forward to leading a continuation of the energetic voter education and advocacy activities initiated by my predecessor, Dr. Judy Williams. The League has an important role to play in the publication of its Voter Guides, voter registration and hosting forums to help voters make educated choices in the upcoming elections," said Burling.
The convention also approved a position on the transfer of federal public lands after a two-year study on the subject. LWVNM believes federal public lands should benefit all Americans and should remain under federal jurisdiction and be managed according to the Multiple-Use Sustained Yield policy. The League is opposed to the sale of federal lands to private entities under most circumstances.
A study on the selection of New Mexico judges in limited jurisdiction courts was also approved. A committee will begin investigating the current process for selection of municipal, magistrate and probate judges and will review the qualifications required of those judges.